How to design your own personalised lanyards…..
Lanyards are a very popular promotional product in Australia. No matter what business you go to, you will most likely see almost every staff member wearing a custom lanyard with the company's logo. No matter what trade show or event you go to, you will also see almost every guest wearing a promotional lanyard.
Personalised lanyards not only can be used to keep track and hold your ID badges, keys or phones and ensure they are always close at hand, but are also a great marketing tool which can make your company name and logo very visible when you wear them in the public.
Designing a personalised lanyard can be very intimidating, especially if it isn't your daily routine job or you need to order them for a very important and large-scale corporate event. After assisting so many customers just like you for over 20 years, to help our customers have a stress-free mind, we have made an ultimate internal guide on how to design your own personalised lanyard.
What is your order quantity?
When designing your custom lanyards, the first thing you need to consider is to determine the quantity that you need. As with all our personalised products, bulk orders would come with huge discounts.
With a breakaway safety feature or not?
What are breakaway neck lanyards?
A breakaway neck lanyard has a quick-release clasp that can open easily to avoid chocking. Either it can have a plastic clip which sits at the nape of our neck and gives way when the lanyard is yanked, or it has a snap lock joiner lower down on the cord which can be easily released when pulled on.
Benefits of breakaway safety lanyards?
Breakaway safety lanyards are ideal if a lanyard can get caught around our neck easily, causing harm or in situations a lanyard can become a life-threatening item in the hands of the wrong people. Situations like:
o   Lanyard might become a hazard for those who work close to heavy machinery and large equipment
o   Anyone who works with children
o   Young children who are required to wear student IDs on a lanyard
o   Working in hospitals, nursing homes, disability care centre and prisons. Any work environment where a threat exists to employees or others becoming aggressive should consider using the safety clip in your lanyard. A cord around your neck in these situations can become a life-threatening object in the hands of the wrong people.
Determine the strap size
The standard lanyard and the most popular one is 450 mm long.
If you place a measuring tape around your neck and measure where a 450 mm lanyard would meet, you will see that it will land in the middle of your chest. You can also tie a knot in the measuring tape at this point, then you would find that it's also so easy to remove the loop without hurting yourself.
If you know that you will need a longer or a shorter lanyard than the standard length, for example, lanyards for kids are shorter than the standard lanyards, please contact us through online chat, email or phone to discuss, and we can customise the length for your needs.
Width
We offer three lanyard widths to select from: 15mm, 20mm and 25mm.
To decide the width, you would need to consider:
(a)   Cost
A wider lanyard would need more material to make it, so the cost is higher. If you are looking for budget lanyards, 15 mm width is a very good choice.
(b)  Design
A wider lanyard can give more space to print. To make sure your design fits well on the lanyard, you will need to think about the width. If you have a busy design or a lot of text, 25 mm width is quite a good choice.
Select your preferred material
You can choose different materials for your customised lanyards:
polyester lanyards (most popular)
nylon lanyards
cotton lanyards
Recycled PET (RPET) lanyards
silicone lanyards
bamboo lanyards
From our 20 years plus, promotional products industry experience, we can tell the most popular material for custom lanyards is polyester, 99% of our customers choose polyester lanyards and you will never go wrong with this choice. Polyester lanyards are durable and hold heavy items, because polyester is a very strong fabric and polyester lanyards are not easy to wrinkle or tear over time as polyester retains its shape.
Select the attachment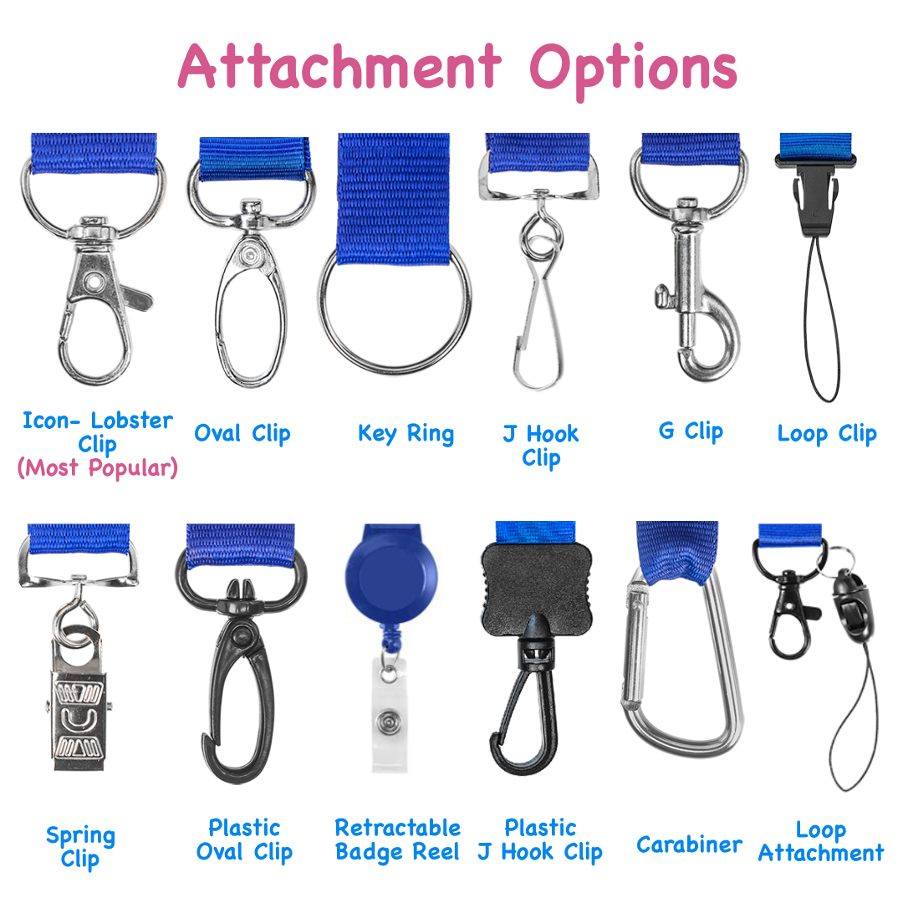 If without the hook or clip, the lanyard would only be a necklace. We offer a variety of attachments to fasten your ID, keys, USB flash drivers, phone or lip balm to your lanyard. The most common lanyard attachments include:
Loop clip
Spring clip
J Hook Clip
Oval Clip
Each attachment is a bit different and could have a big impact on how functional your lanyards are, so look at the item you would like to hook on to the end and check if your item has a die cut hole at the top. If you are in doubt, please feel free to give us a call for more information and we can help recommend the right lanyard clip for your needs.
Select the printing option
There are three common options for custom printing for your personalised lanyards: silk screen, dye sublimation and woven.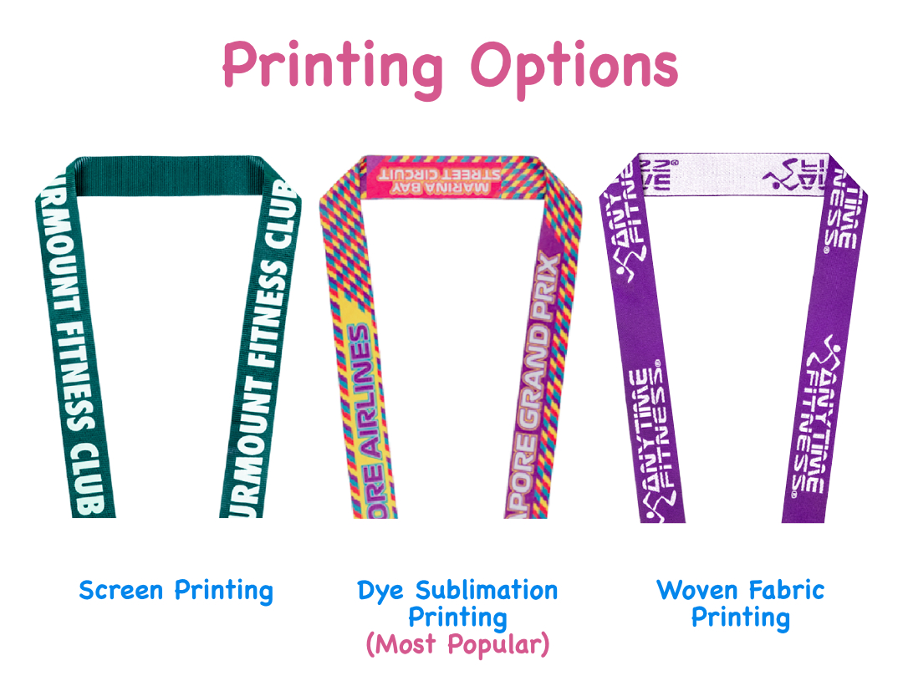 Screen Printing is achieved by forcing ink through a fine mesh screen with a squeegee onto the product and is ideal for branding flat objects. This type of printing is one of the most popular printing methods used in the promotional products industry as it produces a very durable high-resolution imprint. Screen printing lanyards are suitable if:
You are only printing text, or a simple logo
Your text or image is a solid colour (often white text on a coloured lanyard)
Not require printing edge to edge
Dye sublimation print is used for branding products that have a special coating on them, or fabrics suitable for the sublimation process. A transfer is produced by printing sublimation ink onto transfer paper and then heat pressing it onto the product. Dye sublimation lanyard is one of the most popular products among our customers as they are most durable, very cost effective and extremely stylish. Dye sublimation is popular with any size organizations and trade shows. Dye sublimation printing lanyards are ideal if you require:
Full colour
Multi-color images or text
A detailed, intricate design or image
Require to print your image or design edge to edge on the lanyard
Highly value the accuracy of their logo or brand colours
Pantone match a colour for branding purposes
Cost effective for two-sided printing
Woven Fabric printing is the procedure to embroider your logo or company name right into the polyester material. Woven custom lanyards are built to last and durable. Woven lanyards are not as popular as the other two printing lanyards and they are only making up a small percentage of promotional lanyards our clients order based on their personal preference. Woven lanyards are suitable if you require:
Never have to worry about your company name fading from your promotional lanyards
Great for heavy-duty applications
To be used in a robust environment that requires very long life
Ready to order your custom lanyards?
Lanyards can be very stylish and fun accessories if they are made in beautiful colours and are printed with your company logos.
Do you want to bulk order personalised lanyards or do you still have some questions about how to design your promotional lanyards? The team at Simply Merchandise are always happy to help, simply give us a call, send an email, chat with us online or send an enquiry through our website. We are here to help to make your high quality custom lanyard for your next event or company at the lowest price.