Personalised sock online cheapest prices Australia wide
Promotional Socks branded with jacquard weave and full colour print on cotton, bamboo and polyester sock fabrics
Personalised socks made from luxurious 100% cotton, bamboo and bamboo. Create brilliant socks with your logo and creative designs. A great promotional product that is exciting and useful, providing great brand recognition. Personalised socks can be used for sporting teams, schools, special events, corporate promotions, festivals and fund raising.
CUSTOM BRANDED SOCKS CAN RAISE YOUR BRAND PROFILE
When you are looking to order not only fun, quirky, stylish but also comfortable, warm, practical, and a cost friendly promotional product for gifting to your clients and employees, look no further than custom socks.
We have the good ability to customise, bulk produce and ship socks with your design in a wide range of styles, colours & materials, using the latest sock knitting machinery producing vibrant socks with the best quality. We offer no-show socks, ankle socks, quarter socks, crew sock, below/above knee socks and athletic performance socks to suit different needs.
Printed or customised socks are light weight & a small promotional product making them excellent for mailing and easy to store. Embroidered customised socks are a very useful marketing tool for all kinds of brands & age groups. Companies can easily distribute them individually by hand in their promotional events or as mentioned above are a compact mailer. Also great for organisations who want to sponsor a sports team or co-sponsor as there are many locations on a sock and to order in bulk and then have the socks delivered directly to the sports or school team. They can make an amazing addition to your mailing campaigns, new hire welcome kits and promotional giveaways.
Socks are an inexpensive promotional item, and they can be used by people regularly. By printing your logo on socks, your business can raise its brand awareness when people wear them in the gym, work or anywhere and will be seen and admired in all spaces.
Customised Socks are a fun and quirky piece of giveaway swag for all brands, organisations, and industries.
PERSONALISED SOCKS CAN BE USED FOR ALL SORTS OF MARKETING CAMPAIGNS 
They are a comfy and cosy promotional item to add to the mix and can be used for many different types of businesses, as giving the gift of comfort will leave the recipients that wonderful warm-fuzzy feeling both inside and out. We've made promo socks for all sort of organisations from ski resorts to universities, hospitals, sports team, schools, healthcare, running events and trade shows.
Personalised socks are great for:
Fundraisers (Hot product)
Boutique clothing brands
Conference & trade show giveaways
Employee appreciation
Gifts to your clients
Corporate wear
Promo merch
Sport teams
Mailing campaigns
DESIGN & ORDER YOUR CUSTOMISED SOCKS WITH YOUR LOGO TODAY!
Whether you're designing a new uniform for your school, or just a new kit for your sports team, personalised socks are great for pulling your promotion into the next level.
At Simply Merchandise, we have made the designing and ordering process as seamless and simple as possible for our customers. It is extremely easy to order and we are here to assist you through the process.
First thing first, choosing the style first. The process starts from selecting the type of socks to custom print. We have made it our mission to have a wide range of high-quality socks for every organisation and personal occasion. We can provide unlimited customisations and possibilities for our customs. You can choose no-show socks, ankle socks, quarter socks, crew socks, knee-high socks and sports socks. We not only provide soft cotton socks, colourful polyester socks but also eco-friendly bamboo socks.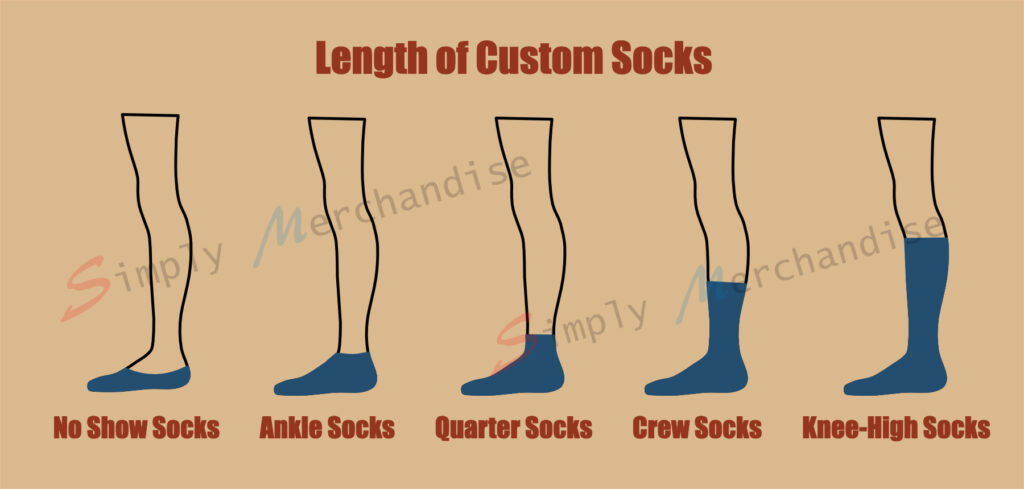 Next up comes the design part. Let your imagination run wild with unlimited colours and designs throughout the sock. Large branding area in full colour allows for your logo, messages, slogan, and great design work. Then upload your artwork through our website or send it to us by email. If you need help to put your idea together or redraw the artwork, simply give our friendly team a call or email us, we are always happy to assist.
Once you know what you want to print on the socks, then you can choose the branding options for your next personalised novelty socks. If the socks are for family occasion, we can do 360-degree digital printing to print your face, or your kid' face, or your dog' face, or your whole family's faces onto your personalised socks. It is such a fun gift for your family's special day, just imagine how happy your little daughter would be receiving a pair on her birthday and all her friends would receive one from the birthday party. For professional corporates, we can do jacquard knit socks for you. You would love those customised jacquards knit socks with your logo running through the sock, showing not only a professional, stylish & very good quality look but also very comfortable and durable.
Then we will put the style you chose, the design, and the colours all together and create the digital mock up for your approval. We will not start the production until you are satisfied with all the details and approve the mock up artwork.
That is all you need to do when you order the promotional socks with us. You may want to find other items to match with your creative and fabulous socks. Have a look at our other popular promotional giveaway items, such as custom beanies, custom branded tote bags, embroidered caps, custom printed drink bottle and personalised lanyards.
Let's make socks that rock. If you still have question about how to create socks which are as eye-catching and unique as your brand, give a member of our experience team a call on 1800 833 006 or email us on save@simplyaust.com.au for more fun details for your next custom branded socks.
FAQs About Personalised Socks
Q: Can Simply Merchandise supply custom brand socks with our company's logo?
A: Yes, we have supplied promotional products includes branded socks for over 25 years in Australia. They can be customised with your logo and design. They are cost-effective, quirky, and fun way to promote your business.
Q: How can I buy socks with custom logos?
A: Now you can easily order personalised socks online from your home, your office or anywhere you can access your phone or computer.
To order your promotional socks from us is very simple:
Select your socks – no show socks, ankle socks, quarter socks, crew socks or knee-high socks.
Use your imagination to create the design you want.
Put your imagination onto paper – upload your artwork or ask us to draw it for you.
Approve the digital mock-up of your socks to confirm the design and colours. We will not start the production until you are 100% satisfied.
Receive your socks.
Q: Where can my logo appears on personalised socks?
A: Literally there is no restrictions on the position of the logo when customising socks.
To create a promotional effect and to allow the logo to be displayed to the public when your team or customers wear them, our customers choose to place the logo or the company's name near the cuff part or the upper part of the sock.
Some of our customers would also like to place the logo on the right and left side of the upper part, or in the middle.
We also can put it near to the toes or on both sides of the soles of the feet.
Q: What sock customisation options are available?
A:  Currently there are 5 popular options to transfer your logo or design to your socks: embroidery, dye-sublimation, 360-degree digital printing, heat transfer vinyl, and Jacquard knit. Most of our customers choose jacquard custom socks. Let's have a closed look of those branding options, then you will understand the reason:
Embroidery: After the socks are made, we can stitch a logo into the fabric of socks, just like how we stitch logos into polo shirts, caps, and beanies. Embroidered logos can leave a solid feel and a very professional impression due to its ensuring durability. However, when orderimg bulk promotional socks, it is a bit costly as you pay the cost to make the socks and also an embroidery cost.
Dye-sublimation: The processes are firstly using a printer to print the design onto a piece of transfer paper, and them placing the paper on the sock and applying heat and pressure by using a heat press. It is ideal for designs with fine details and rich colour gradients. As you can see it is a manual process and it is not easy to do mass production, so it is not cost friendly when ordering bulk, and it's ideal for individual birthday gifts or Christmas gifts with a family photo on it. Another thing with dye-sublimation is that the only material that works well with sublimation is 100% polyester, and when we buy socks, we prefer they are made from cotton, wool or bamboo fibre.
360-degree digital printing: To avoid white line, the sock will be stretched around a cylinder when using this printing option. It is great at printing continuous design with fine details and colour gradients. The overall look is more faded and less bold, to compare with other printing options. It's fun when you do personal gift, however we do not recommend using 360-printed option for your promotional socks, as it could not give you a very professional and vibrant look.
Heat transfer vinyl: it is like dye-sublimation as it is using heat and pressure to print on fabric. The first difference between it and sublimation is that sublimation is to print on paper first, but vinyl heat transfer is to print on vinyl. Second difference is heating transfer vinyl can apply on most fabrics however sublimation only works on polyester. It's fun to create a pair of personalised socks as a personal gift, however it doesn't look very professional as a corporate gift, so we don't recommend this method for our corporate customers.
Jacquard knit: By using this method, your design or your logo are knitted directly into the sock. Rather than embroidered, printed, or stamped onto the fabric, Jacquard fabric refers to any pattern that is woven directly into the material on a knitting machine. Jacquard knit socks are stylish and durable. Unlike printed and stamped designs, the woven pattern won't fade or wear off your socks. They are fun also with fabulously professional & quality looking, and they are very cost effective. Now you can see why jacquard custom socks are so popular.
Q: Do you supply custom athletic socks?
A: Absolutely. Our custom sports socks are perfect to be used for all types of sport teams, school uniforms and all types of events. To order the custom athletic crew socks, sport ankle socks and knee-high socks for your teams uniform, simply give us a call at 1800 833 006 to discuss the most suitable options.
Q: What is the minimum order requirement for bulk custom socks?
A: Our minimum starts at 100 pairs per sock design & size. 
Q: What materials are personalised socks made of?
A: All our promotional socks on our website are jacquard knit socks, and we provide a wide range of yarn fabrics to meet your needs including cotton and bamboo. Our most popular custom cotton socks contain 80% cotton, 17% polyester and 3% spandex jacquard knit.
Q: How many colours can go on the customised socks with logo?
A: We can do up to 5 colours to make your custom jacquard knit socks.
Q: How does the socks sizing work? Can I order a split of sizes?
A: All our popular socks on our website work on 'one size fits most' or the adult medium size. The size can fit nearly 90% of us. If you are after sock for kids or youth, we can supply them and simply give our friendly team a call to discuss the option.
Q: Do you stock any eco-friendly personalised socks?
A: Absolutely. We offer a wide range of eco-friendly promotional products. Bamboo socks are made from bamboo fibres, and they are naturally environmentally friendly socks. They are very soft and comfortable to wear. They are good at keeping your feet to stay dry as the bamboo fibre can absorb moisture from your skin. There is another reason why our customers love them, which is they naturally provide an antibacterial property as bacteria does not like to grow and live in bamboo fibre. Custom bamboo socks are the great sustainable promotional product and amazing corporate gift which shows an environmental and ethical conscience from your company.
Q: Do you supply any creative sock packaging that we can giveaway each pair of socks within for our marketing campaign?
A: Why not! The best way to finish your bulk sock order is with the perfect custom printed sock packaging. We provide a wide range of custom packing solution to meet your budget and needs. We can customised make the header cards and the middle wraps to feature your brand name & your company's logo if you are going to give away your socks in bulk. We also can offer poly packing bags and custom gift boxes. If you are a retailer and would like to sell your own designed socks, our custom packing option allows your sock to be displayed in a customised package and create a unique presentation ready for you to sell in your shop. Although our socks are one size fits most, the custom socks packaging isn't, and it can come with different styles and sizes!
Custom kraft cardboard Header Cards
It has been the most popular option to pack socks. The top wrap attaches the pair of socks together at the top of the socks. You can print your logo, company's name, and messages on it by using full colour ink. They are perfect for company swags, trade show giveaways and retailing shops.
Custom Middle Wraps
It wraps around the pair of socks in the centre. The wrap paper attaches to itself. We can custom print your company's name, your logo, and inspiring sayings on it by using full colour ink. They are best for conference giveaways, new hire welcome kits and boutique retailing shops.
Custom Gift Boxes
We can print your special messages, logo, and your company's name on the gift box by using full colour ink. They are perfect for corporate gifts an
Call us for you next order of vibrant exciting personalised socks.